We always tell our supporters that our work depends entirely on them–on YOU. And those aren't just pretty words.
If we've learned anything about what truly motivates our elected officials to pay attention to issues we care about, it's that an organization with hundreds of thousands of supporters can't hold a candle to the direct action of a handful of people in a legislator's district. We can reach out to your Congressmen day in and day out, but we are one of many organizations calling on legislators for help.
What DOES make a difference is when we can show those legislators our supporters live and work in THEIR districts. What DOES get their attention are the names, faces, and outreach of the people they represent directly. YOUR concerns and expectations as a single constituent are far more powerful to your representatives than the mountains of posts, press releases, letters, and emails we send them (not that we're going to stop doing that any time soon–sorry, Congress).
The fact of the matter is for as much as we advocate for seniors and beneficiaries, when it comes to your representatives, YOU are ultimate advocate. Your vote and your ability to directly influence others in your district gives you all the power in the world.
If you've helped us by singing petitions, contributing to our surveys, or even just sharing our website content with your friends and family, firstly, THANK YOU! Every single thing you do to spread awareness about the need for immediate action to strengthen and protect Social Security helps our mission.
But secondly, we're hoping you will be willing to take an even more direct step to reach out to your legislators. We've created a tool to help you do just that.
Our new Email Your Legislators tool is a form that allows you to input a few quick pieces of information–information that will identify your district's legislators and show them you are direct constituent–and send an email directly to their .gov inboxes.
You won't have to compose your own subject line or message–we've done that for you. But you can see what your message will look like and who it will be sent do by clicking "show more" underneath the form.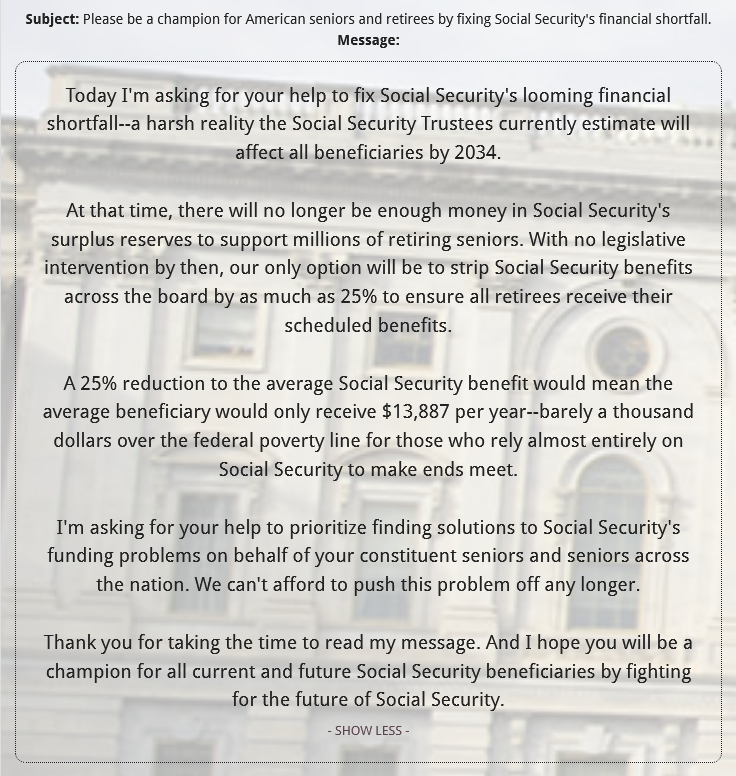 After you've entered your information, clicking "take action" will send this email to YOUR Senators and House Representatives.
We can't overstate the power you have as an individual in your district. When you reach out directly to your elected officials, it makes the loudest sound. If you choose only one way to help us advocate for seniors, this is THE most effective thing you can do.
And the SECOND most effective thing you can do is share this with other people you know in your community. The more your representatives hear from their constituents, the better!