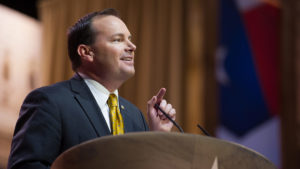 "We can't keep stealing from the Social Security trust fund to bail out the SSDI program. We need real reforms that will both make it easier for recovering Americans to return to work and make the program solvent." said United States Senator Mike Lee (R-UT). 
Lee is sponsoring The Return To Work Act to encourage temporarily disabled people to get off of SSDI and get back to work.  The Act, which does not affect retirees, is sponsored by Lee along with Senators Cotton, Rubio, and Perdue.
Senator Lee said in The National Interest:
The Return to Work Act of 2017 addresses these problems by creating new SSDI categories based on expected chance for recovery, the applicant's ability to work while on disability, and their timeline to re-entry into the workforce.

It also creates flexibility in case rehabilitation plans do not go as expected. In other words, this legislation makes it easier for those who can recover to return to work, while also making the program solvent.

If we can raise the return to work rate of SSDI beneficiaries by even 1 percent, we will save billions of dollars and stop SSDI from going insolvent.