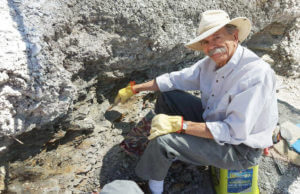 Many seniors choose to take up volunteer postions during retirement as a way to stay active, contribute to their communities, and pursue interests they may not have been able to while working.
For some of these retirees, those interests put them in places you might not expect.  Like out in the field with a compass, a map, and a set of chisels making the next headline-grabbing discovery in paleontology.
That's just what Kay Fredette, 78, did as a volunteer for a small museum specializing in dinosaur fossils and reconstructions.  Thanks to her hard work, in 2014, we unearthed the largest known apatosaurus femur in existence.
And she isn't alone!
Retirees are joining her on digs and in laboratories across the country making ground-breaking discoveries in the area of natural history.
This article at nextavenue.org is all about how American retirees are changing the way we think about retirement; destroying any ideas we may have had about settling in and slowing down.  In fact, it's because of the dedication and motivation of retirees that we are making leaps and bounds in many areas of research.
Read more about how some retirees are REALLY digging their retired years here: http://www.nextavenue.org/digging-dinosaurs-retirement/