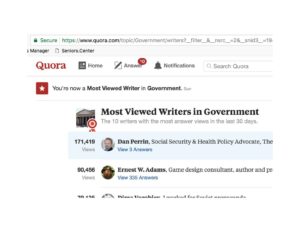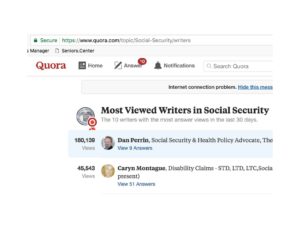 The Seniors Center President Dan Perrin has been ranked the most-read expert on both Social Security and Government by the information sharing platform Quora. Perrin has answered questions from the public on Quora since August of 2017 and has attracted a following that reaches in the hundreds of thousands.
Quora experts include politicians (including Barak Obama and Justin Trudeau), tech leaders (including Tim Cook and Michael Dell), and authors (such as David Brin and AnnMaria de Mars).
Among the questions Dan has answered:
• Why isn't taking money from Social Security embezzlement?
• Which president did not borrow from social security?
• How much has the government borrowed from Social Security?
• Has any president ever borrowed money from social security?
• What is the status of the U.S. Social Security Trust Fund?
• How is the Social Security Trust Fund invested?
• Did the federal government borrow from social security?
• Why doesn't Congress pay SS taxes?
• Why does the Social Security Trust Fund hold US securities?
• Has Congress really borrowed trillions from Social Security?
• Why don't US citizens focus on driving down health care costs?
• Does Social Security really have $2.8 Trillion to pay Benefits?
As President of The Seniors Center, Dan has built a grassroots movement of over 450,000 senior citizens who educate the American public and influence policy makers on issues that effect the quality of life for Americas retired people. The Seniors Center concentrates on securing the Social Security Trust Fund where it has advocated for repayment of funds diverted from Social Security into the Federal Budget.