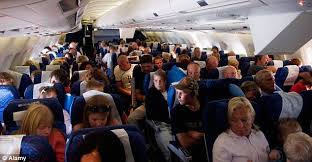 If you fly on American Airlines, your airplane is about to get even more crowded.  Our friends over at The Points Guy are talking about American Airlines plan to spend $1.8 Billion to retrofit its narrow body airplanes to squeeze in even more seats.
Last month, we talked about American Airlines newest Aircraft, the 737 Max, which the airline has managed to jam with 172 seats, forcing them to shrink the bathroom to the point where passengers can't fit their hands in the sink.  And according to Inc. Magazine, "American Airlines CEO Doug Parker…admitted that he'd never actually flown on one of its new 737 MAX planes. These are the ones overstuffed with seats and enjoying toilets smaller than the ones you'll see in a dollhouse."
Is any airline less friendly to its customers?
Being confined with so little space to move is terribly uncomfortable for everyone.  For many people, especially senior citizens, it's also incredibly unhealthy. "Just sitting and breathing in that environment is a challenge to the system," says Leslie Kaminoff, a yoga therapist and breathing specialist in New York on WebMD.  When you add in the cramped spaces, flying can become a major health problem.  Seniors report leg cramps, difficulty breathing, and dehydration.
Another major health risk of tight seating on airlines are blood clots associated with Deep Vein Thrombosis (DVT) which has resulted in sudden death on flights.  Symptoms of DVT, which is sometimes called "economy class syndrome," are pain or swelling in a limb, fever, rapid heart beat, sudden, unexplained cough, and joint pain and soreness.
Travel & Leisure offers advice on avoiding blood clots while flying:
The best way to avoid a blood clot is to move around as much as possible during your flight. Get up out of your seat at least once an hour, and move your limbs frequently while sitting — flexing and bending your feet, ankles, and knees. If you are worried about blood clots, talk to your doctor before flying. He or she may also recommend wearing compression socks, or prescribe a blood thinner.